A range of ready-made portfolios with different levels of risk
Our World Selection investment portfolios are professionally managed, giving you the peace of mind that your investments will be monitored by our team of qualified investment professionals to ensure they stay at the risk level you've chosen.
Why invest in HSBC World Selection Portfolios
Start with as little as GBP/USD/EUR 250 per month or a lump sum of GBP/USD/EUR 10,000

Top up or withdraw your money whenever you like

Manage your investments via online banking

Benefit from diversification across different geographies and asset classes, available in a range of currencies
The value of investments (and any income received from them) can fall as well as rise and you may not get back what you invested. Investing should be seen as a medium to long term commitment, for example at least 5 years.
Your investment funds are held in our Freedom Plus service, which makes it quicker and easier to manage your investments over time.

Once you've made your investment you can buy, sell, switch and manage your investment all via online banking.
HSBC's World Selection Portfolios are offered without investment advice online. This means we aren't required to assess the suitability of this product for you if your choose to invest online.
If you're not sure about investing or how much risk is appropriate for you, please seek financial advice. Find out more about our financial planning services.

Choose the portfolio that's right for you
Click through the descriptions below to help you decide which of the HSBC World Selection Portfolios might be right for you.
World Selection 1 aims to provide capital growth through investment in a broad range of investment types across global markets, and aligns to a low risk investment strategy.
The Portfolio will mostly invest in or gain exposure to fixed income securities, company shares and alternatives including real estate, private equity and commodities. Typically, the fund will have a significant bias towards investments with fixed interest strategies, with a maximum of 25% investment in or exposure to company shares.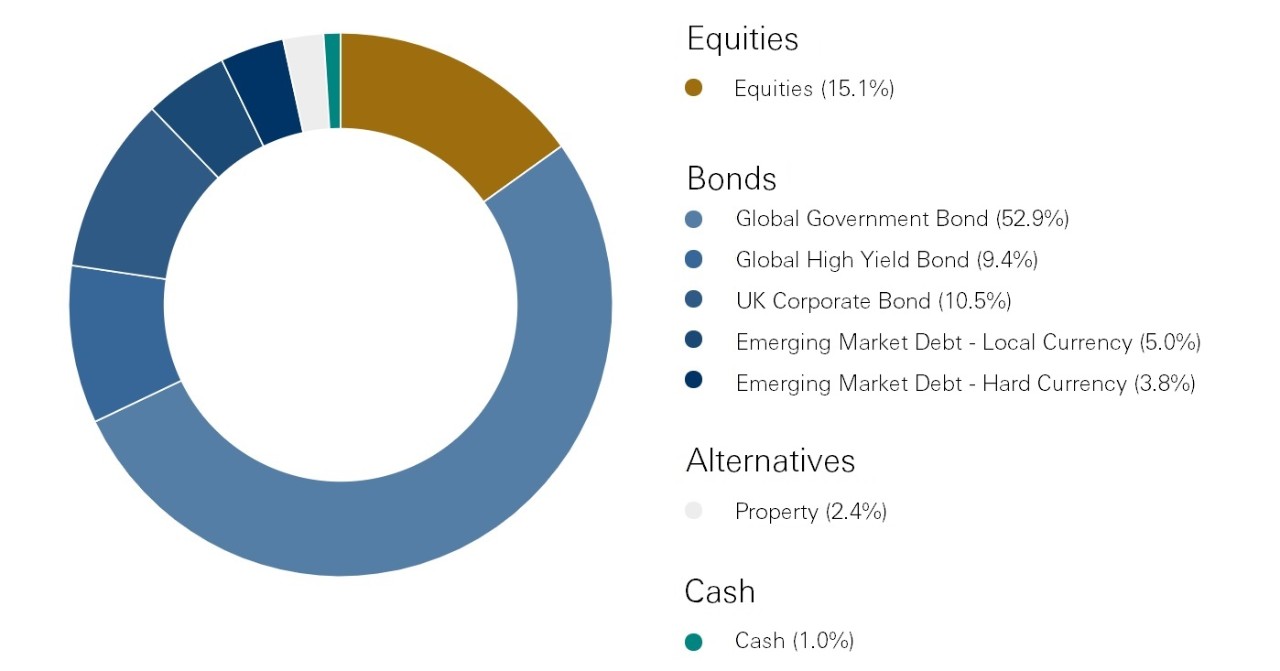 This is a strategic breakdown only, meaning the percentages shown may vary slightly. For the current breakdown please see the corresponding factsheet below.
Lower risk level portfolio
World Selection 1 is classified by HSBC as risk 3 'Lower Risk'.
World Selection 1 is managed by HSBC Global Asset Management (UK) Limited and targets a lower level of investment risk by investing in funds whose values are likely to fluctuate by less than that of a higher risk fund. These funds may produce a greater return than cash based investments with the aim of keeping pace with inflation. Lower risk funds can fall in value to below the amount you invested.
Total costs:
GBP: Entry Fee 1%, Ongoing Fee 1.32%
USD: Entry Fee 1%, Ongoing Fee 1.28%
EUR: Entry Fee 1%, Ongoing Fee 1.27%
You may pay an initial charge to access the portfolio on the Freedom Plus nominee platform, and an ongoing charge for the management of the portfolio. There are no further charges on transactions. All portfolios are commission based share classes. For more information see 'How much does it cost'
When will your money be invested?
What are Cash investments?
How much does it cost?
Total Charges = Initial Entry Charge + Ongoing Charge

Key Documents & Information
KIID's, Portfolio Factsheets, Prospectus and Annual Report are provided for your information by HSBC Global Asset Management (UK) Limited, who are responsible for their reliability and accuracy.
Eligibility
You must be an existing HSBC Expat customer and be registered for online banking.
You must be over 18, want to make your own investment decisions and be looking to invest:

•GBP/USD/EUR 250 per month with a minimum GBP/USD/EUR 100 invested in any one portfolio;
• or an initial lump sum of GBP/USD/EUR 10,000 with a minimum GBP/USD/EUR 2,000 invested in any one portfolio, and a minimum GBP/USD/EUR 2,000 for subsequent additional investments.
You can apply online for HSBC World Selection Portfolios. Once you've logged on you'll need to select Ready-made investment portfolios from the Wealth Dashboard.
You can apply for HSBC World Selection Portfolios once you have opened an HSBC Expat Bank Account with us.
How do I decide on my appetite for risk?
How is the risk level maintained?
Will any restrictions apply to withdrawals from my investment?
What are the general tax considerations for a UK resident investor?
As an existing HSBC Expat customer, do you need me to provide any other information before I can apply to invest online?
Which countries/regions are eligible to apply for HSBC World Selection Portfolios?
World Selection portfolios are not available to residents of the following countries/regions, or US nationals:
Afghanistan, Aland Islands, Albania, Algeria, American Samoa, Andorra, Angola, Anguilla, Antarctica, Antarctica British, Antigua & Barbuda, Aruba, Azerbaijan

Bahamas, Bahrain, Barbados, Belarus, Belgium, Belize, Benin, Bhutan, Bolivia, Bonaire, Bosnia & Herzegovina, Botswana, Bouvet Island, British Indian Ocean Territory, British Virgin Islands, Brunei Darussalam, Bulgaria, Burkina Faso, Burundi

Cambodia, Cameroon, Canada, Cape Verde, Cayman Islands, Central African Republic, Chad, Christmas Island, Cocos Island, Comoros, Congo, Congo Democratic, Cook Islands, Costa Rica, Cote D'ivoire, Croatia, Cuba, Curacao, Cyprus Northern, Czech Republic

Djibouti, Dominica, Dominican Republic

Ecuador, El Salvador, Equatorial Guinea, Eritrea, Estonia, Ethiopia

Falkland Islands, Faroe Islands, Fiji, Finland, French Guiana, French Polynesia, French Southern Territories

Gabon, Gambia, Gaza, Georgia, Ghana, Gibraltar, Greenland, Grenada, Guadeloupe, Guam, Guinea, Guinea-Bissau, Guyana

Haiti, Heard & Mcdonald Islands, Honduras, Hungary

Iceland, Iran, Iraq, Ireland (Excluding North) (EU member state) (EEA Country)

Jamaica, Japan, Jordan

Kazakhstan, Kiribati, Korea North, Kosovo, Kyrgyzstan

Lao People's D Republic, Latvia, Lesotho, Liberia, Libyan Arab Jamahiriya, Liechtenstein, Lithuania

Macedonia, Madagascar, Malawi, Malaysia, Mali, Malta, Marshall Islands-rep Of Martinque, Mauritania, Mauritius, Mayotte, Micronesia Federated States Of, Moldova-republic Of, Monaco, Mongolia, Montenegro, Montserrat, Mozambique, Myanmar

Namibia, Nauru, Nepal, Netherlands Antilles, New Caledonia, Nicaragua, Niger, Nigeria, Niue, Norfolk Island, Northern Mariana Islands

Pakistan, Palau, Palestinian Territory, Papua New Guinea, Paraguay, Pitcairn, Puerto Rico

Reunion, Romania, Russia Federation, Rwanda

Saint Barthelemy, Saint Kitts and Nevis, Samoa, San Marino, Sao Tome And Principe, Saudi Arabia,
Senegal, Serbia Republic of Seychelles, Sierra Leone, Saint Eustatius and Saba, Saint Maarten (Dutch part), Slovakia, Slovenia, Solomon Islands, Somalia, South Georgia and South Sandwich Islands, South Korea, South Sudan, St Helena, St Lucia, St Pierre & Miguelon, St Vincent & Grenandines, Sudan, Surinam, Svalbard & Jan Mayen Islands, Swaziland, Syrian Arab Republic

Taiwan, Tajikistan, Tanzania, Timor Leste, Togo, Tokelau, Tonga, Trinidad & Tobago, Tunisia, Turkmenistan, Turks & Caicos Islands, Tuvalu

Uganda, Ukraine, United States of America, US Minor Outlying Islands, US Virgin Islands, Uzbekistan
Vanuatu, Vatican City State, Vietnam

Wallis & Futuna Islands, West Bank – Palestine, Western Sahara

Yemen, Yemen Democratic

Zaire, Zambia, Zimbabwe

Please note we may require additional supporting information regarding the source of your funds and wealth, in order to meet the due diligence requirements of our local regulator. We will contact you if this is required.
This is a non-advised investment service for investors who want to make their own investment decisions. The content on this webpage does not, and is not intended to constitute advice. Therefore if you trade through this service HSBC Expat will not assess the suitability of the transactions for you. If you are in any doubt about the suitability of an investment transaction, we recommend you seek financial advice.
The value of your investments (and any income you receive from them) can fall, meaning you may not get back the full amount you invested. This could also happen as a result of changes in the rate of currency exchange, particularly where overseas securities are held or where investments are converted from one currency to another.
Investments should be considered as a medium to long-term commitment, meaning you should be prepared to hold them for at least five years.
Past performance is no guarantee of future performance. It is important that you understand the risks and charges associated with any investment. Before investing, please check the specific product literature on this website, including the fact sheets and Key Investor Information Documents in order to compare the risks and charges associated with your chosen funds.
Whilst banking and investing offshore may have potential tax benefits for you, tax rules differ from country to country. If you are unsure about your personal tax obligations, you should seek professional advice. It is your responsibility to disclose your income to the tax authorities.
For UK Resident Investors: The share classes of the HSBC Portfolios - World Selection (Luxembourg registered) that are available for distribution in Jersey do not have UK Reporting Fund status. UK taxation rules apply and you should always seek professional advice.
You might be interested in